Massage Therapy in West Perth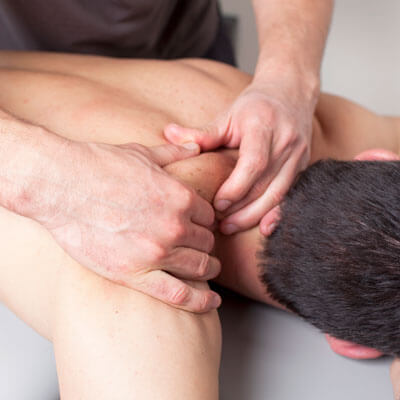 Massage therapy is a manual (hands-on) manipulation of the soft tissues of the body, including muscles, fascia, tendons, and ligaments, to enhance a client's health and wellbeing. There many different types of massage therapy:
Swedish Massage
Deep Tissue
Trigger Point Therapy
Bowen Therapy
Shiatsu
Hot Stone
Reflexology
Thai Massage
Lymphatic Drainage
Massage Therapy – Categories
Relaxation Massage - Also known as Swedish massage, it is practiced in settings like spas, wellness centers and resorts.
Therapeutic Massage - Also known as deep tissue, trigger point therapy, medical, rehabilitative or clinical massage, it is practiced in many settings such as clinics, hospitals, and physiotherapy offices.
Why Massage Therapy?
There are many benefits associated with massage therapy. People elect to have massage therapy for many reasons:
To reduce stress and anxiety
To relax muscles
To rehabilitate from injury
To overcome pain
To relieve muscle tightness
To promote overall health and wellness
Conditions Massage Therapy Can Help With
An array of different issues may improve with massage therapy:
Recovery from injury
Carpal tunnel syndrome
Shin splints
Headaches and migraines
Sciatica
Plantar fasciitis
Tendonitis
Knee pain
Neck pain
Tennis elbow
Golfer's elbow
Lower back pain
Shoulder pain
Bursitis
Frozen shoulder
Fibromyalgia
Arthritis and joint pain
Chronic stress & anxiety
Cancer
Immune system disorders
The Effortless Superhuman holistic healing practitioners are highly-trained in many forms of massage therapy and use it extensively to help alleviate pain and restore function in their clients.
What to Expect
The first step is for our practitioners to 'palpate' or 'feel' your muscles and fascia to determine their relative state. Tight ropey muscles, trigger points, and taunt fascia may all alert the therapist that these tissues may be contributing to your pain or dysfunction.
Pain Generator = The tissue(s) that are contributing to your pain pattern.
The fascia is the fibrous connective tissue that serves as wrapping around muscles and joins them with other tissues. If we identify any restrictions and hardening of that fascia, we're here to help eliminate those restrictions, which can have a marked effect on how the muscles function. And in turn, have a positive impact on the spinal segments, joints, and the nervous system.
The next step is to consider muscles that may be working 'overtime' to manage everyday stresses. Everything from poor posture due to sitting and using devices to muscle strains, injuries and traumas can cause our muscles to work harder to stabilise the injured area. We pinpoint these overworked muscles and start to correct them with our unique style of massage.
We will also locate areas of muscle wasting or what is known as atrophy. This is commonly found along with the restricted fascia and 'over-working' muscles. Massage addresses all of these issues, promoting healing through increased blood flow to the affected muscles.
The Importance of Consecutive Sessions
To get the most out of massage at our practice, we recommend that you come in for consecutive massage sessions. When you come in for your follow-up session, we will work immediately on addressing the different areas we located on your first visit. Once completed, we can accurately determine how well your body responded to our massage therapy.
Based on how your body responded, we can craft a customised plan to help your muscles and fascia regenerate properly and heal so you can enjoy lasting relief. Some clients should come in on a more frequent basis while others can visit us less often.
FAQ
What should I expect on my first visit?
You will be prompted in advance of your first session to complete our detailed medical and health history intake forms. These forms are a critical component to the success our therapists achieve and by completing them prior to your first consult, you will be saving yourself both time and money.
In most cases, your treating therapist will assess these forms prior to your initial consultation to fully understand your concerns and to prompt them to ask further questions when you arrive.
At the first consultation, you will follow your therapist into a treatment room where you can discuss the type of therapy you will be receiving. It's at this time that you can add any key points to your intake forms or ask any questions of your therapist. Your treating therapist may have even more detailed questions for you regarding your intake forms.
How does massage help with healing?
In numerous ways! Massage decreases tension, helping to reduce pain and discomfort. As a result, you can relax emotionally, mentally and physically. Massage also helps to improve lymphatic drainage as well as boost circulation.
Can massage improve flexibility?
Massage may increase flexibility. Many of our clients have experienced improved flexibility when their muscles are relaxed and not as tense. Massage may also assist in joint mobility improvement, reducing inflammation and improving muscle tone.
Can massage help relieve pain?
Yes, it can. During your massage session, we'll focus on the areas that are causing problems. Our team will also work with you to create a custom care plan when additional therapy is recommended.
Does massage complement physiotherapy care?
Just about everyone can benefit from massage. As we all are under stress to a certain degree, massage can reduce stress, relieve pain and so much more. We can develop a customised plan to address your unique needs.
Book Your Session Today
Discover the benefits of massage therapy. Contact Effortless Superhuman today!

Massage Therapy West Perth, Subiaco, WA | (08) 9388 2768