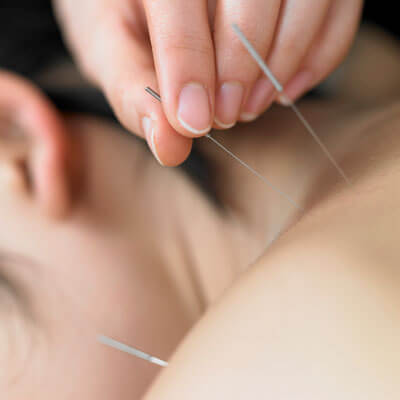 If you have been to multiple health practitioners without getting results, the team at Effortless Superhuman may be the answer for you. With 20 years of dry needling experience, our holistic approach to health and healing considers all aspects of human performance – mind, body, and soul.
One of our treatment options is dry needling. It can be extremely beneficial for those who are suffering from pain, tension and trigger points.
Experience the Healing Effects
Dry needling evolved from traditional acupuncture, which most people are familiar with. Both involve the insertion of fine needles at specific points on the body. There are several goals that are possible with dry needling:
It can be used as a 'diagnostic tool' helping our practitioners to identify if trigger points are contributing to your pain or dysfunction (pain generator)
The alleviation of muscle tension and corresponding improvement in muscle length
An increase in the range of movement around a joint
The improvement of blood circulation
Alleviation of pain and other unwanted symptoms
A positive effect on the parasympathetic nervous system (rest and digest)
All of these effects lead to enhancing your body's healing response. And of course, that is our overall goal with any dry needling session.
What to Expect
The first step is to have a comprehensive evaluation with one of our skilled practitioners. Once we have discussed the nature of your problems and learned more about you, we can decide whether dry needling might be right for you. If so, we'll let you know what a session involves and what will occur.
When you have dry needling, a fine needle is inserted into your muscles or connective tissues. It can penetrate from 5mm to 7.5cm in depth (depending on the thickness of your muscles) reaching deep trigger points. Such points are difficult to reach even with a deep tissue form of massage. If you've found that your massage isn't doing what you think it should, dry needling may be ideal for you.
The placement of the needles is designed to create a precise reaction in the targeted tissue. We'll leave the needles in place for a specific amount of time to make sure that you receive the full effects of dry needling. The frequency and duration of your sessions will depend entirely on your particular situation.
A Master's Qualification in Dry Needling
Our holistic physiotherapist, Stephen Hooper, has undertaken additional training to qualify within this healing therapy. He has received a master's qualification in dry needling (20 years of experience) and is highly skilled in getting outstanding results.
Learn More Today!
Are you wondering whether dry needling is right for you? Discover if our holistic approach to healthcare is right for you. Contact Effortless Superhuman today to schedule your consultation with us!