A New Healthcare Model (Holistic Healing)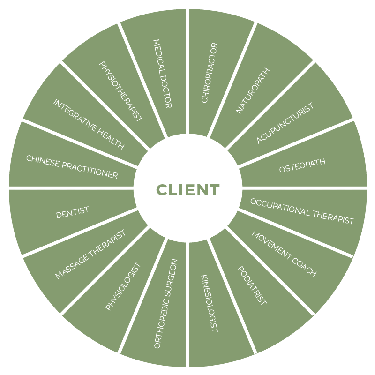 To overcome the current healthcare crisis that plagues the majority of first world countries, there is a need for a new health care model that is client focused and holistic in nature. First and foremost, each individual will want to take responsibility for their own health and wellness and make decisions that reflect their desire to be healthy and happy. As such, each individual focuses on the 'Foundation Principles' of health on a daily basis, whether they are looking to remain healthy or are recovering from pain, illness or disease.
This new, holistic model of health care will allow clients to surround themselves with a team of health professionals that is most suited to their needs.
Under this new model, clients will be empowered to practice self-care that is based firmly on the foundation principles. These habits should be adopted both for preventative care and for healing purposes. Medical doctors and allied health professionals (physiotherapists, naturopaths, psychologists, chiropractors, Chinese Medicine practitioners, counsellors, etc.) can work together to support clients and develop a cost-effective strategy for maintaining or restoring health. This new model will replace the current allopathic (medical) model that often disempowers patients and does little to restore their health.
Our Vision


Holistic Healing | (08) 9388 2768